Though done in purple, it is a soft purple. There are enough contrasts in patterns and other blending of other tonal colors that it is a soothing house. From room to room, you see beautiful feast of color & patterns, though there are not so many to jar you from point to point. I mean your eye for different patterns even extended to the fireplace, which you did beautifully!
(yes, I know. My picture taking skills need to improve. Working on it! =) )
I also love the Juliet balcony that is in the front of the house! Such a stylish, and romantic architectural detail!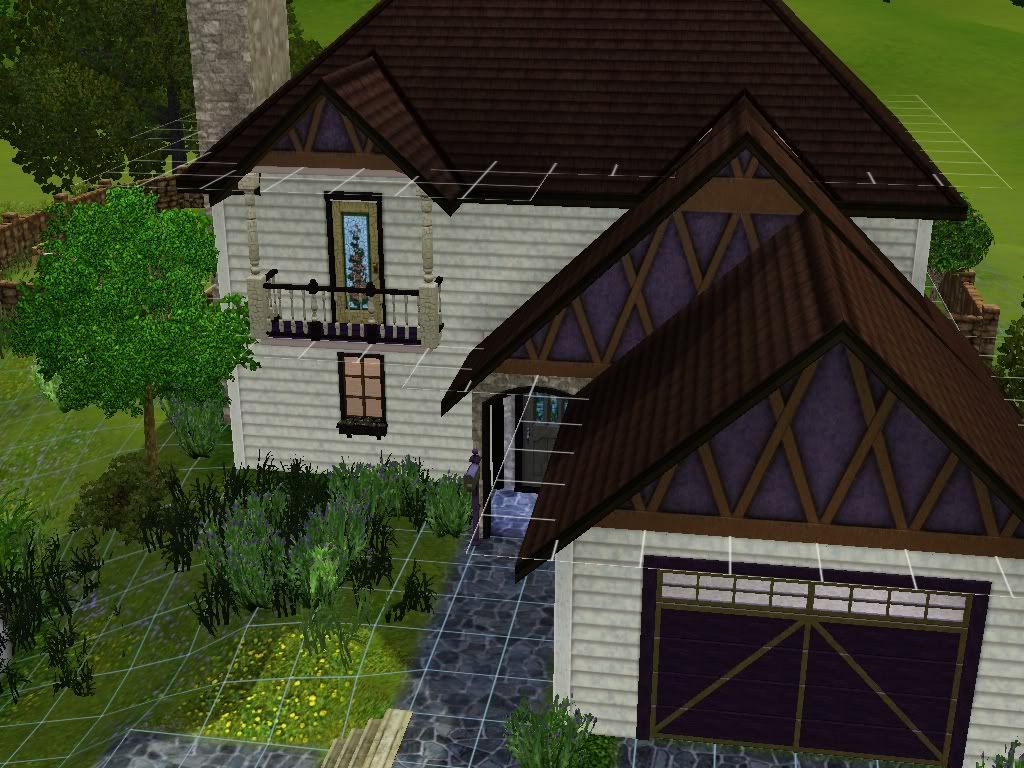 I did find that I love the premise around this house. That is it not supposed to be able to house everything that a sim could need. While there is no attic or basement, there is room for some hobbies out in the garage. Though a 3 bedroom, there is still plenty of room to move around, plus there is an area for a horse. Plus it has this really cool wallpaper. Ok, sue me, but I love it!! LOL
With homey touches and landscaping, not to mention a pond, this is a wonderful house for your down to earth sims. Also great for anglers, eco-friendly sims, and for early generations legacy house. Just one thing to know. Don't know what item yet, but you might wind up with this if you don't have a certain store item.
Don't worry! Just sell the bed. There was actually not supposed to be anything there in the first place. This is still a house that can be used for many different sim-lives! I am using it for my new vegetarian, athletic, cured of vampirism, turned from evil, and going to adopt to help another generation sim. LOL (Don't worry I saved a "copy" of my evil vampire still! Just trying out a different story line!) Want to see more about The Gable? Check out Peaches blog
here
. Plus you can go
here
to download! Enjoy!